Princes and former ministers detained in Saudi Arabia corruption probe
Eleven princes, four sitting ministers and 'tens' of former ministers have been arrested on orders from the new anti-corruption committee headed by Crown Prince Mohammed bin Salman on Saturday evening according to sources.
Last Update: Sunday, 5 November 2017 KSA 11:44 – GMT 08:44
Saudi Crown Prince: Iran missile supply to Houthis 'direct military aggression'
Crown Prince Mohammed Bin Salman (File Photo: Reuters)
Saudi Arabia's Crown Prince Mohammed bin Salman said on Tuesday that Iran's supply of missiles to the Houthi militia in Yemen was a "direct military aggression."
Johnson condemned the Houthis for intentionally targeting civilians and said Britain stands with the Saudi kingdom in confronting security threats, the Saudi Press Agency reported.
The crown prince told Johnson that the Iranian regime's involvement in providing Houthi militias, which are affiliated with it, with missiles is a direct and a military aggression by Tehran and amounts to being viewed as an act of war against the kingdom.
Johnson and the crown prince also discussed regional and international developments during the phone call, the report added.
Gargash: Iran's missile issue a priority after Houthi attack on Riyadh
UAE Minister of State for Foreign Affairs Dr. Anwar Gargash said that "the failed Houthi attempt to target Riyadh …
Trump voices confidence in Saudi King, Crown Prince over corruption probe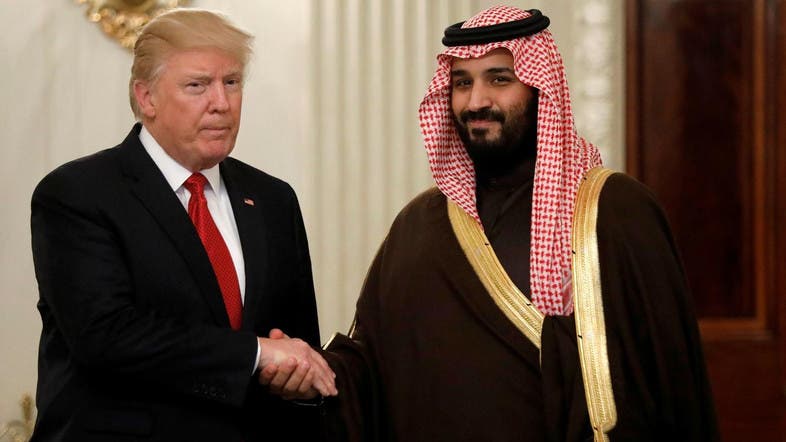 FILE PHOTO: Donald Trump and Mohammed bin Salman meet at the White House in Washington March 14, 2017. (Reuters)
Staff writer, Al Arabiya English
US President Donald Trump on Monday endorsed a move by Saudi Arabia's King Salman and Crown Prince Mohammed Bin Salman to arrest royals, ministers and investors in an anti-corruption drive last week.