TB drug designed for children launched in Kenya
The world's first drug specifically designed to treat tuberculosis in children has been launched in Kenya.
The new pill is a combination of three drugs used to treat tuberculosis, mixed in the right dosage, and is fruit-flavoured to appeal to children.
Until now, the global TB Alliance says pills designed for adults have been split to get the dosage for children.
Every year, about a million children fall ill with TB, which is the world's deadliest infectious disease.
In 2014, an estimated 140,000 children died of TB, according to global figures from the World Health Organization (WHO).
BBC Africa health correspondent Ann Soy says Kenya is the first country to roll out the new drug nationally, with more countries expected to follow over the next three years.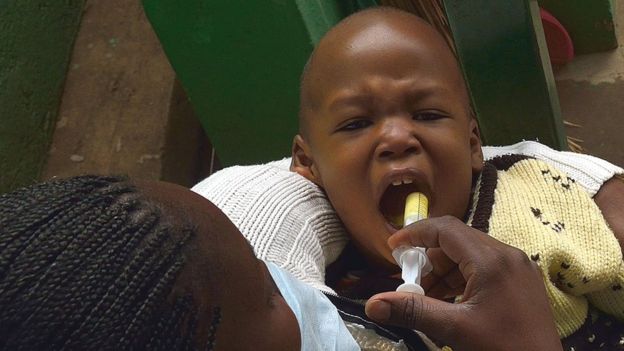 Experts say the new treatment will be more effective because the components have been measured accurately and the pill is not bitter-tasting.
The drug dissolves easily in water, making it easier to take every day for the six-month treatment period.
Africa has the highest prevalence of TB of any continent.
The global TB death rate has dropped by almost a half between 1990 and 2015, the WHO says.
---
Tuberculosis symptoms
A persistent cough, usually for more than three weeks
Night sweats for weeks or months
Weight loss
Fatigue
High temperature
Shortness of breath