UK warns its citizens about traveling to Ethiopia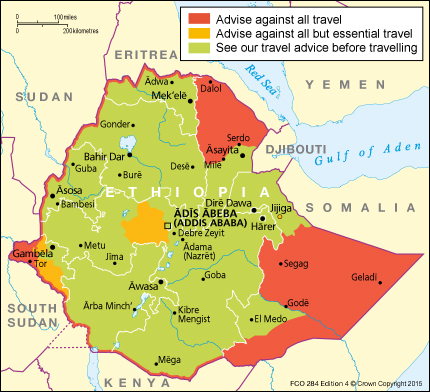 The Foreign and Commonwealth Office (FCO) advise against all travel to:
within 10 km of the border with Eritrea, with the exception of the main road through Axum and Adigrat, and tourist sites close to the road (e.g. Debre Damo and Yeha)
areas off the principal roads/towns within 10 km of the borders with Sudan and Kenya
within 10 km of the border with South Sudan
the Nogob (previously Fik), Jarar (previously Degehabur), Shabelle (previously Gode), Korahe and Dollo (previously Warder) zones of the Somali region.
within 100 km of the Ethiopian border with Somalia and Kenya in the Afder and Liben zones of Ethiopia's Somali region
the Danakil desert area: north of the Mille-Djibouti and Mille-Chifra roads, and east of the towns of Bere-Ale, Shehet, Didigsala and Chifra
the four woredas (districts) (Akobo, Wantawo, Jikawo and Lare) of the Nuer zone and the Jore woreda of the Agnuak zone of the Gambella region
The FCO advise against all but essential travel to:
west and south-west Shewa zones in the Oromia region (this area includes the popular tourist destination of Wenchi Crater)
Jijiga town
three woredas of the Agnuak zone of the Gambella region that border on South Sudan (Dima, Goge and Etang) and the Gambella wildlife reserve
On 12 July, there were reports of violent clashes, including gunfire in the city of Gondar. The situation remains tense with reports of ongoing gunfire, disruption to services, damage to hotels and possible street protests. There have also been reports that the road from Gondar airport is closed. The situation may escalate and you should check the local security situation before considering any travel to the city. You should avoid crowded areas and remain vigilant if in the city. We are closely monitoring the situation and may issue further updates shortly. If you are planning to visit the area, you should check our travel advice for any further updates before travelling.
There have been reports of landslides and torrential rain in Kindo Didaye Woreda, Wolaita Zone, SNNP regional state and Bale Zone in Oromia regional state on 12 May, causing disruption to travel in the area. Landslides have also reportedly damaged the road linking Shashemene, Aje and Alaba and there are reports of extensive damage to the road between Arba Minch and Wolayita. In mid-April there were severe floods in parts of Ethiopia including Jijiga, the Jinka road in South Omo, Moyale on the Kenyan border, and parts of the Afar region. Check local reports and the weather conditions before travelling.
A cross-border raid on 15 April 2016 in Jikawo, part of the Gambella region on the border with South Sudan, resulted in 208 civilians being killed. There have also been reports of clashes between different groups in the Gambella region on 21 April 2016, resulting in 17 people being killed. Tensions remain high in the region with the possibility of further clashes.
There were reports of a hand grenade attack in Debre Zeit on Wednesday 30 March 2016. Check local reports before travelling to this area.
Widespread protests have occurred across the Oromia region in recent weeks; some have turned violent resulting in casualties and others have caused disruption to road travel. There is a heightened risk of travel across the region. You should very carefully check the latest security situation on the ground before travelling, and review your plans accordingly.
On Saturday 12 March there were reports of clashes that lead to the Konso authorities blocking the road leading to Yabelo and Jinka regions. Police have advised people not to travel until the issue is resolved and the road reopened. You should take extra care if you're planning to travel within this region.
On the weekend of 13 to 14 February, there was a further serious outbreak of violence in the Shashemene and Langano areas, a few hours drive south of Addis Ababa. There have been wide spread clashes with local authorities and reports of vehicles being attacked.
In late January and early February 2016, ethnic tensions in Gambella city and surrounding areas have resulted in a number of casualties. Federal authorities have been deployed and a curfew imposed. The FCO already advise against all travel in 4 woredas of the Gambella region and against all but essential travel in a further 3. You should monitor local news media for further information before travelling, remain vigilant and take care in crowded areas.
There have been heavy clashes including gunfire between protesters and security forces on 17 December 2015 in Sululta, 20km north of Addis Ababa on the road to Bahir Dar. Localised clashes in the Galabat area resulted in the closure of the Metema-Galabat border post with Sudan on 15 and 16 December 2015 and further crossing point closures may occur.
There was an explosion at the Anwar Mosque in the Merkato area of central Addis Ababa on 11 December 2015.
There is a high threat from terrorism. There are credible reports that Al Shabaab plan, and have the capability, to attack targets in Ethiopia. In October 2014 the US Embassy in Addis Ababa issued a travel warning advising "those in Addis Ababa to avoid areas where both Ethiopians and westerners frequent", and citing threat reports of Al Shabaab's intent to target the Bole area of the city.
You should be vigilant at all times, especially in crowded areas and public places like transport hubs, hotels, restaurants, bars and places of worship and during major gatherings like religious or sporting events. There is a high threat of kidnapping in Ethiopia's Somali region, particularly in the eastern areas to which the FCO advise against all travel. See Terrorism
Crime levels are low, but you should avoid large gatherings and public demonstrations and be alert to the risk of street crime. See Crime
The Ethiopia-Eritrea border remains closed. Several security incidents have taken place along the border. The risk of cross-border tensions remains. There is a threat of kidnapping along the border. See Local travel
Owning ivory is strictly prohibited in Ethiopia. Anyone caught in possession of ivory can expect to be detained by police. See Local laws and customs
Around 20,000 British nationals visit Ethiopia every year. Most visits are trouble free.
The Overseas Business Risk service offers information and advice for British companies operating overseas on how to manage political, economic, and business security-related risks.
Take out comprehensive travel and medical insurance before you travel.