Bangladesh siege: Twenty killed at Holey Artisan Bakery in Dhaka
Twenty people, most said to be foreigners, have been killed in an attack on a cafe in Bangladesh claimed by so-called Islamic State.
Gunmen stormed the Holey Artisan Bakery cafe in Dhaka late on Friday before troops entered almost 12 hours later.
Six attackers were also killed and one was arrested, officials said. Bangladeshi PM Sheikh Hasina has declared two days of national mourning.
At least nine Italians and seven Japanese were among those killed.
Italy's Foreign Minister Paolo Gentiloni said one other Italian was still unaccounted for. Many of the Italians reportedly worked in the garment industry.
Japan said eight of its nationals were in the cafe. One was among 13 people rescued but the other seven died.
All were consultants for Japan's foreign aid agency and Prime Minister Shinzo Abe said they "were giving their all for the development of Bangladesh".
The army had initially said all hostages killed were foreigners, but later reports said some Bangladeshis also died.
In other developments:
India's foreign minister said a young Indian woman was among the dead
Two Sri Lankans were among those rescued
Bangladesh Army Brig Gen Naim Asraf Chowdhury said the victims had been "brutally" attacked with sharp weapons
Pope Francis condemned the attack as an "offence against God and humanity"
The siege began as diners gathered to break their fast during the Muslim holy month of Ramadan.
Bangladesh's Daily Star newspaper said the gunmen tortured anyone who was unable to recite the Koran. They provided meals overnight for only the Bangladeshi captives, it said.
"It was an extremely heinous act," Ms Hasina said in a televised statement. "What kind of Muslims are these people? They don't have any religion.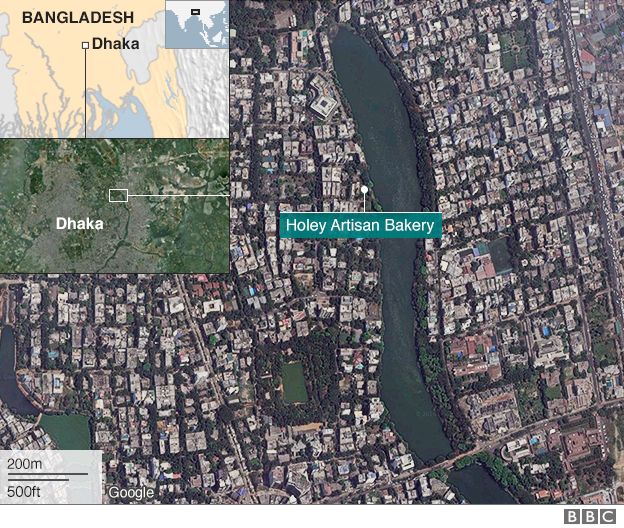 Sumon Reza, a supervisor at the cafe in the Gulshan district of Dhaka, managed to flee to the roof when the attackers burst in.
"The whole building was shaking when they set off explosives," he told local media. He later jumped from the roof and escaped.
"From 08:00 it all started," said Rashila Rahim, who lives near the cafe. "Gunshots, tank sounds… It was like we were in the middle, and gunshots from all around."
---
'Tension is palpable': The BBC's Sanjoy Majumder at the scene
Street 79 in Dhaka's upmarket Gulshan area is remarkably quiet. The street is barricaded with scores of heavily armed police.
"Please sir, please move back," one police officer tells us, politely but firmly.
The tension in the air is palpable. As more media teams arrive, the officer loses his temper and screams at his men, telling them to make sure no-one crosses the barricade.
The Holey Artisan Bakery is known as a bustling cafe popular with expats and wealthy locals.
"There is an open-air terrace overlooking a lake," Dhaka Mayor Annisul Huq tells me.
"That's why it was so popular. It was so serene. I can't believe that this has happened to my Dhaka, I simply cannot."
He has cut short a trip to Moscow and is visibly shaken.
People mill around, talking in whispers. There is fear in the air, but also disbelief at the nature of the attack and the brutality of it – the selective targeting of foreigners and the manner in which they were killed.
---
The attack began when eight or nine armed men burst into the cafe at about 21:20 (15:20 GMT) on Friday and opened fire.
Media reports quoted witnesses as saying that they shouted "Allahu Akbar", meaning "God is great".
At least two police officers were killed in exchanges of fire late on Friday, and 30 police officers were injured.
A statement on IS's self-styled Amaq news agency said militants had attacked a restaurant "frequented by foreigners".
Lt Col Tuhin Mohammad Masud, commander of the Rapid Action Battalion, told Associated Press the gunmen did not respond when asked to negotiate. It is unclear if they made any demands.
The attack comes after a spate of murders of secular bloggers, gay activists, academics and members of religious minorities, blamed on Islamist militants.
---
Are you in the area? Have you been affected? You can share your experience by emailing haveyoursay@bbc.co.uk.
Please include a contact number if you are willing to speak to a BBC journalist. You can also contact us in the following ways: